Custom Brochure Printing
An eye-catching custom brochure can help sell anything by enticing customers to find out more about a brand or a promotion. The best brochures are graphically appealing, carefully scripted and expertly printed—and we have the team it takes to design and deliver just that. Let Minuteman Press help you create brochures that engage your audience and successfully sell your products and services. They're a cost-effective way to build your brand and tell your story.
We produce custom brochures for our clients in Orange County, OC including Newport Beach, Irvine, Tustin, Costa Mesa and Huntington Beach. Minuteman Press of Newport Beach is a local printer. We also have free pickup and delivery service!
High Quality Brochures Printed Same Day
Brochure printing is an efficient however cost effective promotional approach for both small as well as large companies. You can highlight ideal visitor places in traveling brochures or market the house you're trying to sell with property photographs and information

Use Folding to Highlight Info
You can choose from eight standard folding choices that present information in an arranged yet detailed way. Customers will wind through your material once you print pamphlets in the dimension as well as layer. All the sizes we point out below as well as on the calculator determine the sales brochure before folding.

Single Fold Brochures
This fold splits your paper into 2 panels or more equivalent fifty percents. Utilize this to note down your company's product or service details. The smallest popular dimension prior to folding is 5.5" x 8.5" as well as the biggest goes to 11" x 17".

Three-Panel Folds
There are 3 kinds of three-panel folds. Each offers a distinct way to disclose either visual-heavy or step-by-step information concerning your brand. The tiniest most prominent dimension before folding is at 8.5" x 11" yet you can have a slightly bigger one at 8.5" x 14". The most significant dimension readily available for sales brochure printing is at 11" x 17".

Tri-fold Brochures
One of the most preferred and functional sales brochure layer is divided into 3 panels. They are optimal for marketing presentations that require to expose details in a series.

Roll Fold Brochures
The roll fold, as the name suggests, folds your paper internal to itself. It lets you reveal each panel one at a time or introduce arranged details in an overall of 4 indoor panels.

Gate Folded Brochures
This fold splits your pamphlet into three panels. 2 panels look like doors that cover a larger main panel, attracting clients to unravel a revelation regarding a brand-new store branch or product.

Four-Panel Layers
We offer the complying with four-panel folds. The added layer offers more area either for another area or a huge, visual-heavy format. One of the most popular four-panel dimension prior to folding goes to 8.5" x 14".

Double Gate Folded Brochures
Similar to the gate fold, this kind has the central panel folded at the facility. It provides a large area for brochure designs that wish to highlight shades, pictures, or call for even more text room.

Double Parallel Brochures
This fold separates your paper into 4 panels. It is first folded in half and then in half again, parallel to the initial fold. This fold is wonderful for in-depth services and product discussions.

Accordion Folded Brochures
This fold splits your pamphlet right into 4 alternating panels. The design divides the page into 6 panels, each of which have sufficient room for in-depth photos and lengthier message.

French Folded Brochures
The French layer divides your paper horizontally and after that vertically right into 4 quadrants. It's best for massive sized styles such as maps or infographics-based or image-heavy layouts.

Brochure Paper Options
Our paper stock choices highlight the visual toughness of your style as well as entice potential consumers to maintain analysis.

70 pound. Paper
Twice as thick as usual duplicate paper
Incredibly easy to fold
Resilient yet light-weight
Uncoated option just
Easy to compose on with any type of pen or pencil
80 pound Paper
A little thicker than 70 pound. paper stock
Density equivalent to publication paper
Gloss as well as matte finish options
Writable utilizing ballpoint pens or permanent pens
100 pound Paper
Most prominent choice for sales brochures
Substantial weight includes a premium feeling
Gloss as well as matte layer options
Writable using ballpoint pens or irreversible markers
10 PT. Cardstock
The thickest product for sales brochures
Thickness comparable to paperback book covers
Significant and also resilient weight
Gloss, high-gloss UV, as well as matte finishing options
Writable using ballpoint pens or long-term markers

A gloss finish ideal matches photos with brilliant colors, while matte layer has no glare and is optimal for text-heavy brochures.

Start producing your custom brochures with us today.
Not enough content for a brochure? A flyer may be a cost-effective way to go.
To learn more about our top selling products, click here
To get a quote or upload a file, please fill out the form.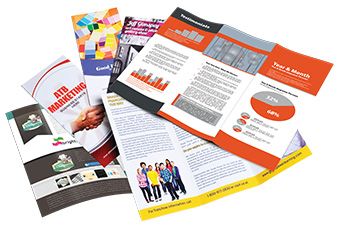 Double Gate Folded Brochure


Accordion Folded Brochure

rexIRVINE Housing Specialists

We printed our flyers at the Newport Beach location and we are extremely satisfied with the results. They are very friendly, helpful, solutions oriented and FAST! Price wise, so far theirs is the most competitive for the jobs we got quotation from. We will work with them from now on. Thank you again!